Story highlights
Pope Francis delivered another scathing economic critique in Paraguay on Saturday.
The Pope said the poor are the "flesh of Christ."
(CNN)Pope Francis delivered yet another biting critique of contemporary capitalism on Saturday, saying the poor are often sacrificed on the "altar of money" and accusing the wealthy of worshipping a new "golden calf."
"Certainly every culture needs economic growth and the creation of wealth," the Pope told a group of civic leaders in Paraguay, the final stop of his weeklong trip to three South American countries. But political and business leaders have a responsibility to ensure that profits reach the pockets of the poor as well as the rich, he said.
"I ask them not to yield to an economic model which is idolatrous, which needs to sacrifice human lives on the altar of money and profit," Francis said.
Saturday's speech was neither as long nor as scathing as the sharp denunciation of modern capitalism the Pope delivered Thursday in Bolivia, in which he called the relentless pursuit of profits the "dung of the devil." Still, it had its share of rhetorical fire.
Paraguay poor prepare for Sunday visit
The Pope said he gets "snotty' when he hears highfalutin speeches from politicians that "everyone knows are liars." He compared corrupt regimes that convict political opponents on bogus charges to Hitler and Stalin. And he said the worshipping of golden calves -- an ancient form of paganism -- has "returned in a new and ruthless guise in the idolatry of money and the dictatorship of an impersonal economy."
Francis' fierce condemnations of economic inequality have led some -- including leftist Bolivian President Evo Morales -- to say the Pope is preaching socialism. But he said Saturday that his concern for the poor comes from the heart of Christianity.
"As Christians, we have an additional reason to love and serve the poor; for in them we see the face and the flesh of Christ, who made himself poor so to enrich us with his poverty," the Pope said, citing the Apostle Paul.
When he heard confessions as a priest, Francis said, he often asked Catholics whether they touched the hands of people to whom they gave alms or just tossed coins in their cups. To do the latter, the Pope said, is to "disdain the poor" and to use them as an object to salve our guilty souls.
One more interesting note from Saturday's speech: Among the attendees was a gay rights activist who is also an atheist. It was a bold move to invite Simon Cazal, as CNN's Shasta Darlington reports, for besides being an extremely Catholic country, Paraguay is also socially conservative. You can see Shasta's report in the video below.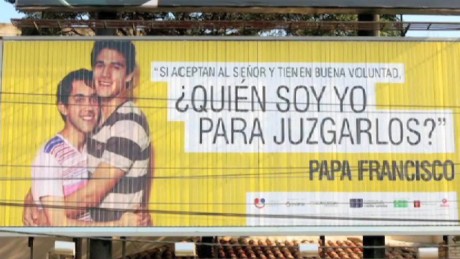 JUST WATCHED

Pope Francis to meet with gay rights activist in Paraguay
MUST WATCH
The Pope apologizes
Pope Francis has apologized for the "many grave sins" committed by Christians against indigenous peoples in South America during the colonization of the continent by Spain several centuries ago.
In a speech largely dedicated to decrying a "new colonialism," in which corporations and banks take the place of colonizing nation-states, the Pope acknowledged Thursday that the Catholic Church's history is not entirely free from transgression.
"I say this to you with regret," Francis said during a speech to grassroots movements in Santa Cruz, Bolivia. "Many grave sins were committed against the native peoples of America in the name of God."
As the Pope noted, his predecessors, including St. John Paul II, had acknowledged the church's soiled history in South America.
"I humbly ask forgiveness," Francis added, "not only for the offenses of the church herself, but also for the crimes committed against the native peoples during the so-called conquest of America."
The Pope's apology goes further than previous pontiffs, said Andrew Chesnut, a scholar of Catholicism and Latin America at Virginia Commonwealth University.
"Pope Francis' apology, the fullest ever, is the most significant aspect of his trip thus far."
Chesnut added that it will be interesting to see whether Francis also apologizes when he visits Cuba in September. The Jesuits were the "largest corporate slaveholders in Brazil," where they imported slaves from the Caribbean, the scholar said.
Francis has made a point of reaching out to native peoples during his 8-day trip through South America, which has taken him to Ecuador and Bolivia and ends Monday in Paraguay.
Masses have featured chants and readings in local languages like Guarani, and in Ecuador he urged President Rafael Correa not to drill for oil in the Amazonian rainforest, the ancestral homeland of Native South Americans.
The Pope's approach seems to have earned him at least one prominent fan.
"For the first time, I feel like I have a pope: Pope Francis," said Bolivian President Evo Morales, who claims to have indigenous ancestry.
President and the prisoners
One of the key Catholic phrases describing Pope Francis' mission and manner is "a culture of encounter."
That's a fancy way of saying that he tries to meet people where they're at -- and there's no better example then visiting a prison.
On Friday morning, the Pope went to Santa Cruz-Palmasola, the largest -- and most notorious -- prison in Bolivia. The men's facility, where the Pope met prisoners and their families, holds about 2,800 inmates.
"I could not leave Bolivia without seeing you," Francis told the prisoners, earning a hearty cheer.
Francis called for some reforms, including access to education and easing overcrowding. But perhaps the most poignant moment occurred when the Pope got personal.
"You may be asking yourselves, 'Who is this man standing before us?'" Francis said. "I would like to reply to that question with something absolutely certain about my own life: The man standing before you is a man who has been forgiven. A man who was, and is, saved from his many sins."
After the Pope's blockbuster speech Thursday night, it was another side of Francis showing forth: the humble pastor who looks for lost sheep, not the fiery prophet who denounces the pursuit of money as "the devil's dung."
One of the most interesting aspects of the Pope's prison visit was his body language.
He was leaning forward, attentive, making eye contact with the three prisoners who shared the stage with him and delivered short speeches. It was a contrast from Thursday night, when Francis appeared to be a bit wearied by Bolivian President Evo Morales' very long speech.
I don't want to read too much into this -- Morales' speech was at the end of a long day for Francis. But it's worth noting the difference.
By the way, I've been keeping a running log of Francis' weeklong trip to Ecuador, Bolivia and Paraguay -- I call it Pope notes -- and you can read more here.