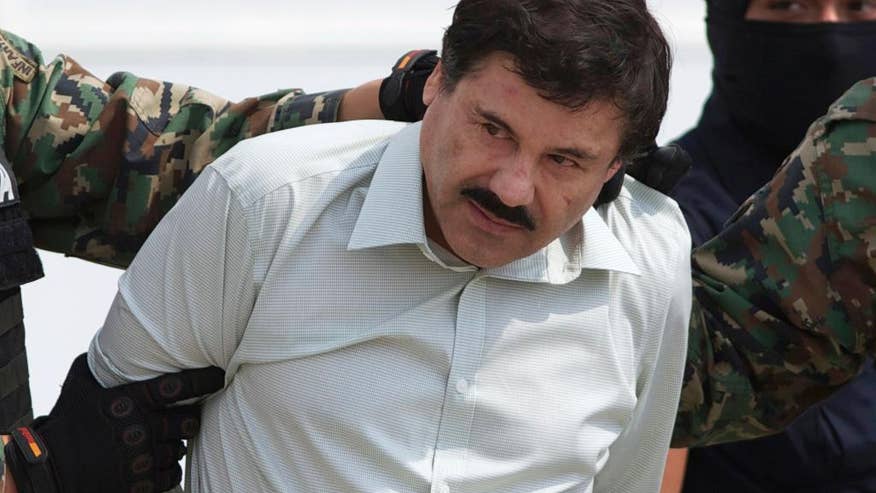 Top Mexican drug kingpin Joaquin "El Chapo" Guzman has escaped from a maximum security prison for the second time, officials announced late Saturday.
Guzman, who headed the powerful Sinaloa Cartel, was last seen in the showers of the Altiplano prison outside the Mexico City.
The National Security Commission said in a statement that Guzman went to the showers shortly before 9 p.m. and wasn't seen for a while. As authorities checked his cell they found it was empty and he was gone.
A manhunt began immediately in the surrounding area and highways. Flights have also been suspended at Toluca airport near the penitentiary.
Guzman was captured in February 2014 after more than a decade on the lam. He faces multiple federal drug trafficking indictments in the U.S. and was on the DEA's most-wanted list.
Guzman was initially Guatemala in 1993, extradited and sentenced to 20 years in prison in Mexico for murder and drug trafficking. He escaped from another maximum security prison, Puente Grande in western Jalisco state, in 2001, with help of prison guards.
The Sinaloa Cartel empire stretches throughout North America and reaches as far away as Europe and Australia. The cartel has been heavily involved in the bloody drug war that has torn through parts of Mexico for the last several years.
Sinaloa is believed now to control most of the major crossing points for drugs at the U.S. border with Mexico.
The Associated Press contributed to this report