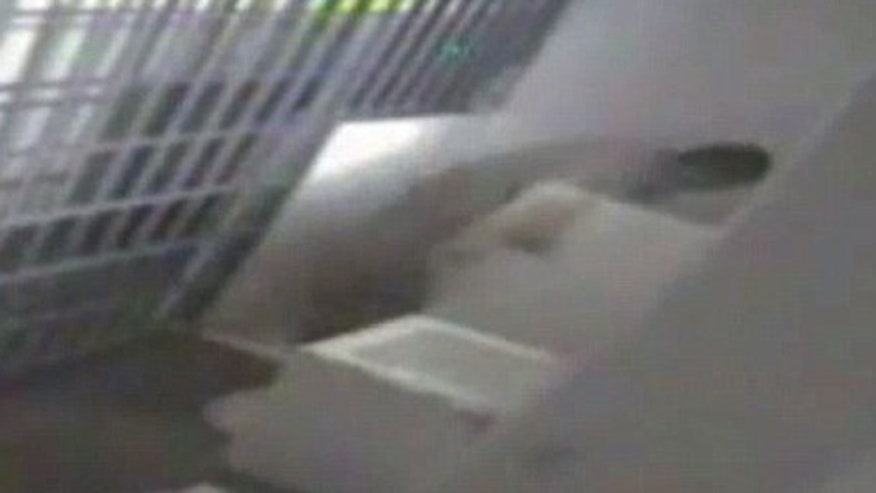 Mexican security officials released closed-circuit video footage late Tuesday showing drug lord Joaquin "El Chapo" Guzman's final moments in prison before his escape over the weekend.
The recording, taken by a camera in a corner of the cartel leader's cell, shows Guzman walking to his bed, where he sits, and appears to change his shoes. He then walks to the shower and toilet area, behind a low dividing wall of about waist height, and simply disappears. Another video filmed after the escape shows the gaping square hole cut into what appears to be the floor of the shower.
The dividing wall blocked the interior camera's view of the hole into which Guzman appeared to disappear at 8:52 p.m. local time this past Saturday. Reuters reported it was one of two blind spots for the security cameras in Guzman's cell. National Security Commissioner Monte Alejandro Rubido that the blind spots were intentional and designed to permit Guzman some privacy while washing.
Rubido added that Guzman's behavior up until his escape and had been considered "normal."
On Tuesday, journalists were taken to see the other end of the tunnel through which Guzman escaped, in an unfinished barn near the prison. Guzman would have traversed the mile-long tunnel on either a specially modified motorcycle or one of two carts pushed along steel rails. The tracks end at the base of a wooden ladder, the first of two that would have taken Guzman to the floor of the barn, where a digging crew had left 4-inch by 4-inch wooden beams, 8-foot- tall coils of steel mesh, gallons of hydraulic fluid, 10-foot lengths of PVC pipe and an electric disc saw. From there, Guzman would have slipped out the barn door and apparently into thin air.
The escape for the former Sinaloa cartel leader, who had been recaptured in February 2014 after 13 years on the run, has caused great embarrassment for the Mexican government and raised suspicions that the escape was facilitated by corruption, or at the very least incompetence.
Interior Secretary Miguel Angel Osorio Chong conceded as much Monday night. He announced that three prison officials had been fired, including Valentin Cardenas, director of the Altiplano prison 55 miles west of Mexico City.
"They had something or a lot to do with what happened, and that's why we made that decision," Osorio Chong said.
Still, he did not say who exactly is suspected of aiding the escape. Nor did he talk about rooting out the kind of corruption that led to the escape.
Osorio Chong said the tunnel was about 62 feet below the surface and he called it a "high-tech" breach of the prison's extensive security measures, which include 750 cameras and 26 security filters.
A tunnel of such sophistication - with lights, air venting, and the customized motorcycle rigged up on a rail line - would normally take 18 months to two years to complete, said Jim Dinkins, former head of Immigration and Customs Enforcement (ICE)'s Homeland Security Investigations.
"When it's for the boss, you probably put that on high speed," he said.
If anyone was capable of pulling off such a feat, it was Guzman, who is believed to have at least a quarter-century of experience in building large, sophisticated tunnels to smuggle drugs under the U.S.-Mexico border and to escape from hideouts as authorities closed in.
His cartel also has been most successful in coopting officials, said Edgardo Buscaglia, an organized crime expert at Columbia University. "By far they are the most infiltrated in Mexico's government institutions," he said.
Experts express skepticism that such an engineering project could go on undetected.
Joe Garcia, who retired this year as interim special agent in charge of U.S. Homeland Security Investigations in San Diego, has extensive experience in tunnel investigations. He said the tunnel at Altiplano was longer than any passage ever found on the U.S.-Mexico border.
To pull off such a feat, rescuers likely had intelligence on the prison even before Guzman was arrested, Dinkins said.
Designers and workers would have needed access to sensitive information such as prison floor plans and alarm and camera systems. And just the noise alone as they bored the final 30-foot vertical shaft directly under the prison to reach Guzman's cell would have generated some attention.
"It's not just like someone took a couple tools, shovels and pickaxes. This is a very sophisticated operation," said Alonzo Pena, a former senior ICE official. "How could they be there and not hear that construction was going on underneath? It's just impossible."
The Associated Press contributed to this report.